CHICAGO — For someone who had to stare from the mound and try to challenge Albert Pujols more times than almost any other opponent, there's something familiar about what former Cubs starter Ryan Dempster is seeing, and it's not just the bonanza of home runs or STL batting helmet.
"His eyes," Dempster said. "They're no different now than when I faced him, than the years he won the MVP. They still never take an at-bat off."
Although, the former Cubs starter added, the jersey completes the look.
"That's the ribbon on the present that we're getting right now," said Dempster, a host and analyst for the Marquee network. "If he's doing it in some other uniform, it wouldn't be the same. This is special. This is a gift to us. Right now, at this moment in the game, the ageless wonder Albert Pujols at 42 years old is actually one of the coolest stories in the game."
For the final time in his career, half of which was spent on the St. Louis side of the Cardinals-Cubs rivalry, Pujols will have a game at the Friendly Confines on Thursday.
He's already spent this week being celebrated at Wrigley Field, from seats to bleachers. Fans chanted late Tuesday night for him to get a pinch-hit appearance in the ninth inning. It's a fitting stage for the latest installment of his raucous finale. Pujols hit his 30th career home run at Wrigley and 693rd of his career on Monday by driving a fastball that was closer to his chin than his chest. Teammates still marveled that he hit the pitch — let alone hit it into the bleachers — two days later.
"He's swinging at bad pitches and hitting them out of the park, too," said starter Adam Wainwright. "Whatever he does, he does amazing."
With that home run, Pujols punctuated a 10-game stretch where he hit .548 and slugged 1.258. That was his highest slugging percentage for any 10-game span in his career.
With that home run, he tied Barry Bonds' major-league record with a home run off 449 different pitchers. The one of those 449 that he's hit the most home runs against? Dempster. In 79 plate appearances against the two-time All-Star, Pujols hit seven homers, slugged .807. Dempster knew the stat before it was brought up and said nothing about Pujols' finish surprising him. He likened it to a Toby Keith lyric: "I ain't as good as I once was, but I'm as good once as I ever was."
"When you're that good for that long and you have that kind of knowledge of the game and that kind of tenure and that kind of Hall of Fame ability, you can be that good for a stretch again, and I think that's what we "re seeing," said Dempster, who spent nine years as a Cub. "It's the stars aligning because he should hit 700 home runs. It's that magical moment baseball always provides us."
Pujols started Wednesday night against a right-hander in part to get Paul Goldschmidt a night off and in larger part because of his recent surge, the swings he's getting on good and bad pitches. He doubled in his second at-bat for his 683rd of his career and to increase that total base count to 6,151. He left St. Louis a week ago behind Stan Musial's 6,134 and returns Friday in second place all time. The Cardinals' plan is still to get him every start possible against left-handers, although opponents don't have a lefty starter announced for any of the Cardinals' next four games.
Pujols does not have a home run against any of the four starters scheduled for the next four games, meaning a home run off any of them would be the record 450th.
While he's playing the hits, one of the first 449 has a request.
"I don't know who he's got seven off of, but we find that and he can face him two more times to get nine," Dempster said. (The closest active pitcher has allowed five to No. 5.) "If he can find it somewhere in his soul to do that, that would be great."
Helsley remains away
Ryan Helsley, the Cardinals' All-Star closer, remained in Oklahoma with his wife and their newborn daughter on Wednesday. The couple celebrated the birth this past weekend, and although Helsley has exhausted his paternity leave, the Cardinals moved him to the restricted list so he could remain with his family, per his request. The team and pitcher remain in constant contact to determine when he will be able to return to the club. The current expectation is for Helsley to be back in the bullpen during the home series this weekend against Atlanta.
Liberatore shows ongoing improvement
After another of his brief appearance in the majors, Matthew Liberatore, the top pitching prospect in the Cardinals' organization, returned to Class AAA Memphis late Wednesday night, but did so after an assertive appearance. As the Cardinals' 27th man for Tuesday's doubleheader, Liberatore pitched 2 2/3 innings to save late-inning regulars from use. He allowed two runs on three hits.
He did not walk a batter, did not let an inning mushroom, and struck out three.
"That was one of the better versions of Libby that we've seen," manager Oliver Marmol said. "Velo was good. Secondary stuff was good. Enjoyed seeing it. For him — it's focus and refocus. You're able to focus before the game is (there). Everyone who gets to this level usually has that ability. But when stuff doesn't go your way, you're ability to refocus is what some people have trouble with. When you see him miss, he misses up. I want him to hone that in."
Matz, etc.
Steven Matz completed a 30-pitch bullpen session Wednesday at Busch Stadium and felt strong through it with no irritation in his injured left knee. Matz is attempting to return from a torn ligament and contribute in some way during September. The left-hander felt good enough during his workout Wednesday that he also tested the knee with pitcher fielding practice drills. … Juan Yepez, trying to hit his way back to the majors and an arm injury, had two homers Saturday for Class AAA Memphis, and since being returned to the top affiliate, he's 4 for 19 (.211) with four RBIs and four runs scored. … After the doubleheader Tuesday, the Cardinals removed catcher Ivan Herrera from the taxi squad and had him return to Class AAA Memphis.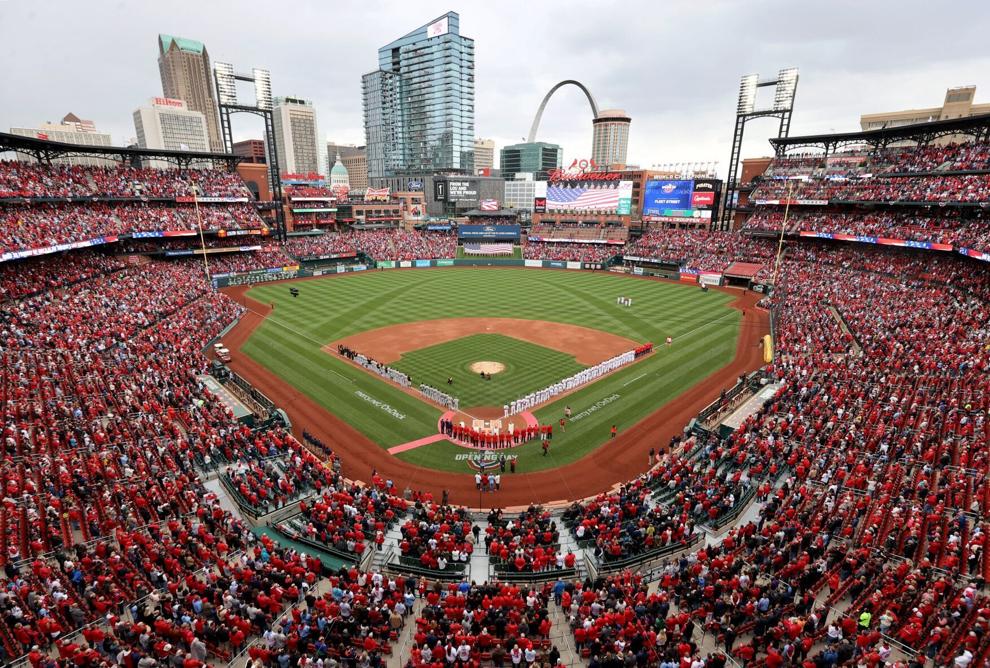 .