San Francisco 49ers general manager John Lynch has repeatedly stated that he felt a trade of Jimmy Garoppolo would happen. Few felt the veteran quarterback would be with the 49ers by the start of the 2022 season. Of course, Garoppolo's decision to undergo shoulder surgery on March 8 changed everything. It put everything on hold. It turned out to put everything permanently on hold.
Teams that sought a quarterback filled their needs. No one was trading for a recovering Garoppolo. By the time he was healthy again, all of the quarterback musical chairs had been filled. Garoppolo was the one left without a seat.
So Garoppolo returned to the 49ers on a restructured one-year deal, ready to serve as Trey Lance's backup. That changed on Sunday when Lance went down with a season-ending ankle injury, leaving Garoppolo as the team's starter moving forward.
ESPN's Tim Keown and Nick Wagoner report that, before the surgery, the 49ers felt a trade to one specific team was on the horizon.
"According to multiple league sources, the Niners believed one of those [interested] teams — the Washington Commanders — was poised to become Garoppolo's next NFL home," reports ESPN. "But that plan was scuttled soon after; Garoppolo's shoulder wasn't healing as he and his medical team hoped.
"After further consultation with doctors, Garoppolo and his representatives opted for surgery that set the beginning of training camp as a target date for a full recovery. By March 1, the plan became public knowledge, and eight days later, the Commanders moved on, trading for Indianapolis quarterback Carson Wentz."
Now, the 49ers are probably counting their blessings that things worked out as they did. The worst-case scenario would have been losing Lance and putting the championship-caliber roster in the hands of a less-experienced quarterback, like the last overall pick in this year's draft—Brock Purdy.
Garoppolo's presence keeps the team competitive and its Super Bowl hopes alive.
Nobody's perfect. Did you find a mistake in this article?
Report it.
Facebook Comments
More San Francisco 49ers News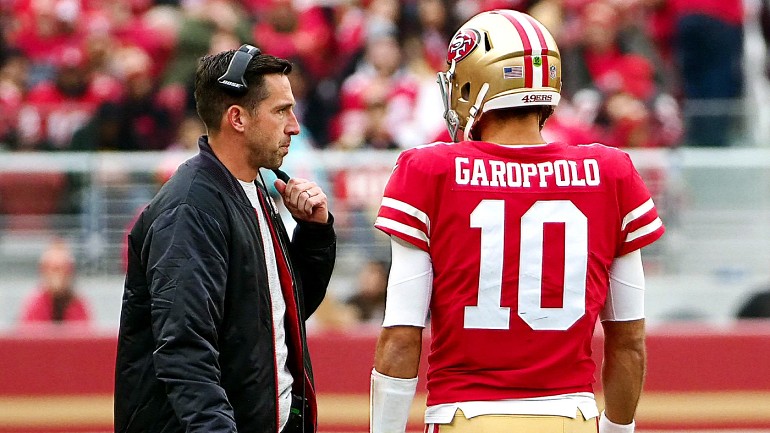 Kyle Shanahan was asked if the 49ers would consider trading Jimmy Garoppolo to the Cowboys
The Dallas Cowboys will be without their starting quarterback, Dak Prescott, for six to eight weeks. He suffered an injury to his throwing hand against the Tampa Bay Buccaneers on Sunday night and underwent surgery on Monday. Cooper Rush is the next quarterback up in Dallas. "Obviously, it's early on a Monday. Certainly, we'll be evaluating all options," said Stephen Jones, VP of the Cowboys and son of owner Jerry Jones during a radio interview before expressing confidence in Cooper. The 49ers have a quarterback they tried all offseason to trade. So would they be willing to send Jimmy Garoppolo to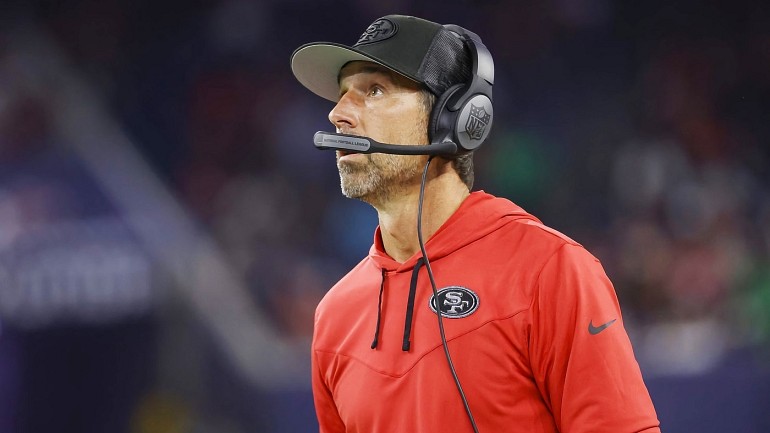 ESPN's bold prediction: 49ers' Kyle Shanahan wins NFL Coach of the Year
Right now, San Francisco 49ers head coach Kyle Shanahan is tied for seventh when it comes to the odds for the next NFL Coach of the Year. ESPN recently went around the league and made one bold prediction for each of the 32 teams. For the Niners, it was Shanahan who won NFL Coach of the Year, and it has a lot to do with the development of second-year quarterback Trey Lance. "The 49ers held onto quarterback Jimmy Garoppolo, but Shanahan will win Coach of the Year because of the development of his replacement, Trey Lance," wrote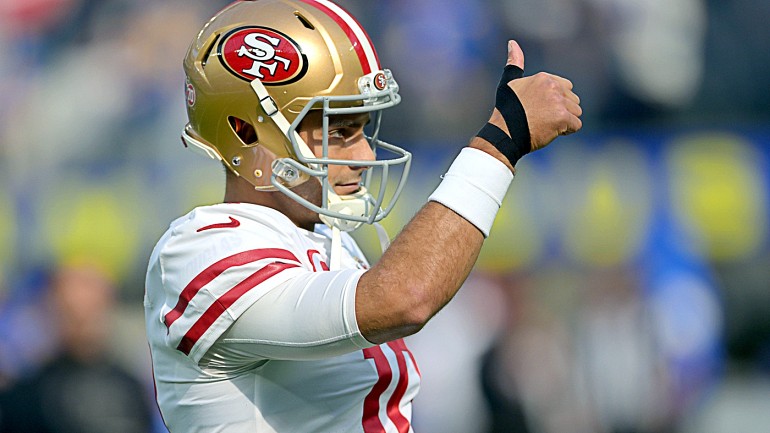 NFL insider believes 49ers trade Jimmy Garoppolo by Nov. 1, slams reporting about Trey Lance
Respected reporter Benjamin Allbright covers the Denver Broncos. He also has many sources around the NFL, so he knows what's going on with the 31 other teams too, including the San Francisco 49ers. While Jimmy Garoppolo signed a restructured one-year deal to remain with the 49ers in 2022, Allbright doesn't expect the quarterback to be on the roster past November 1. "It's a situation where, I think if you look at it from the internal optics of it versus actual practicalities of it, as soon as the Niners get the trade package they want, Jimmy's going to be gone," Allbright said on 95.7 The Game's The Morning Roast. "I don't even expect Jimmy to be there at the end of the season, on that roster, even with that no-trade clause. They wanted to be rid of him.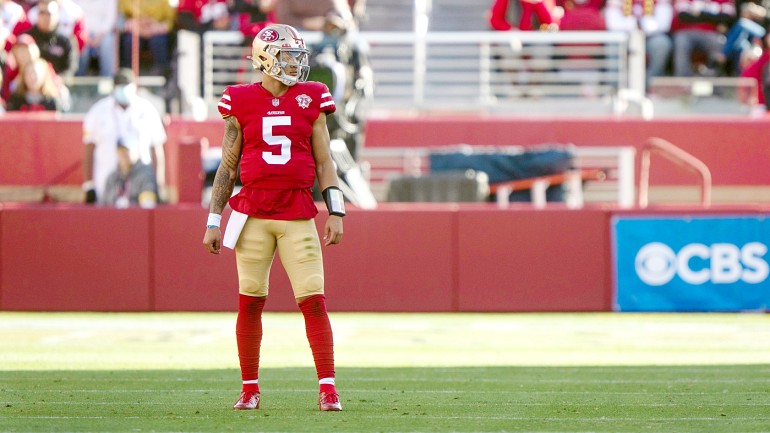 PFF: Why 49ers keeping Jimmy Garoppolo doesn't mean a lack of faith in Trey Lance
If you don't follow the San Francisco 49ers daily and are on the outside looking in, it's easy to see the team bringing back quarterback Jimmy Garoppolo as lacking faith in Trey Lance. However, for those who followed the offseason quarterback drama more closely, there is less concern. It's tough to escape opinion after opinion that the 49ers seem less committed to Lance than they would have been had they traded or released Garoppolo. Understandably, Doug Kyed of Pro Football Focus believes that Lance's leash is shorter with a proven winner like Garoppolo on the sideline. Still, he feels the 49ers will stick with their 22-year-old quarterback barring any injury, and the goal remains to trade Garoppolo if a quarterback need arises elsewhere in the NFL. So why did
.